TOUR DATES: April 24-May 8, 2017  (15 days)
The specialty of this tour is that you will discover and enjoy the real Italian life away from the large northern cities crowded only with foreign tourists.
Here you will spend relaxing days by beaches, enjoy real Italian food, discover many lovely sites, dance almost every night and have a lot of fun.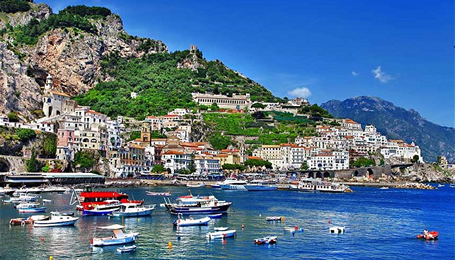 Southern Italy Adventure Itinerary
Day 1.   Departure for Italy.
Day 2.   Land in Rome, transfer to Palermo, fabulous dinner and dancing in the resort Fiesta Hotel by the beach.  
DAY 3.   Palermo. See the highlights of that interesting city, have lunch by the sea and more fun in your hotel.
DAY 4.   Agrigento. Visit the Valley of Temples, have a festival of pizza, wine and fun, then travel through central Sicily.    
DAY 5.   Taormina. A complete free day for sightseeing, shopping and eating!
DAY 6.   Calabria. Admire the unique Calabrese landscape, have another fabulous lunch in a country restaurant and relax in your neat hotel among olive trees.
DAY 7.   Basilicata. See the prehistoric human dwellings ("Sassi") where the movie "The Passion" was made, have another super country lunch and then marvel at the funny "trulli" houses of Alberobello.
DAY 8.   Puglia. Drive through wide plains strewn with vineyards and olive trees, visit a small mountain town where some people will search for family roots.
DAY 9.   Abruzzo. It is a land of wonders and fun: visit an olive oil factory, have lunch in a country restaurant and more fun in your hotel by the beach.
DAY 10.   Abruzzo. Visit the modern city of Pescara, do some shopping, see how much you can drink in a country Winery and then relax in your hotel by the beach.
DAY 11.   Drive along the Adriatic Riviera strewn with modern beach towns, visit the Holy House of Nazareth miraculously transorted in Loreto, cross the Appennini mountains and have a delicious dinner in Assisi.
DAY 12.   Assisi. You will love strolling in the narrow streets of this 1000 year old town, where St. Francis lived and preached. Visit the highlight of that town.
DAY 13.   Rome. Travel to the "Eternal City", visit St. Peter's Square and Basilica.
DAY 14.   Rome. Walking tour of the city's major highlights: Spanish Steps, Trevi Fountain, Pantheon, Navona Square, Colosseum, Forum Roman, etc.
DAY 15.   Return flight.
Southern Italy Adventure Tour Details
Dates of the tour:
April 24-May 8, 2017  (15 days)
Cost of the tour:
$4050 per person
Tour cost includes:
Round trip air tickets to Rome and Palermo, all ground transportation in Italy by deluxe bus, all first class hotels in double occupancy, all breakfasts and dinners, wine in most hotels, tour escort at all time, local guide in Agrigento, taxes and tips. 
For further information contact:
Remo or Eva 
The Italian Heritage Tours
P.O. Box 174
Reynoldsburg, OH 43068
Phone: 1-800-829-2201  (614) 833-5716
E-mail: italiantours@aol.com