TOUR DATES: MAY 12-24-23, 2017  (13 days) 
This tour is a total immersion in the real south Italy life where most Italian-Americans have family roots. It is also a festival of delicious food and fun!
The specialty of this tour is that you will discover and enjoy the real Italian life in south Italy and have the opportunity of "going home" to your family roots. You will also have a slow paced tour which allows you to spend relaxing time by beaches, enjoy real Italian food and wine, see the local people, discover many lovely sites and have a lot of fun.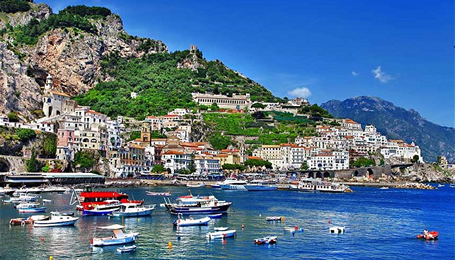 A South Italy Sentimental Journey
Day 1.    Departure for Italy                           
Day 2.    Land in Rome, transfer to Palermo, have a fabulous dinner and dancing at the resort Fiesta Hotel by the beach.   
Day 3.    Sicily. Relax in your hotel with tropical gardens and olympic swimming pools; in the afternoon discover the medieval town of Cefalu located right by the sea. Another memorable evening of food and dancing.          
Day 4.    Sicily. Walking tour of Palermo's historic sites, lunch at the beach town of Mondello.
Day 5.    Sicily. Visit the Valley of Temples in Agrigento, have a festival of pizza, wine and fun.         
Day 6.    Sicily.  Travel through the wild landscape of central Sicily and then up to Mt. Etna where you walk among black lava of extinct craters, while snow and fire threaten from the top of the main crater! Nice hotel by the beach.
Day 7.    Sicily. Have a complete free day in Taormina, sightsee, shop and eat in a cozy restaurant, dance and have fun after dinner.        
Day 8.    Calabria. Cross the Straight of Messina and travel among quaint villages perched on hill tops, stop for a superb Calabrese lunch in a country  restaurant. 
Day 9.    Calabria. This is the day when many "Calabresi" in the group have the opportunity of visiting the place of their family roots in remote towns; the Non-Calabresi will discover the warm hospitality and delicious food of the local people.  
Day 10.  Calabria.  More opportunity for family roots and, if none, you visit the town of Tropea with spectacular view of the sea; you may attend Sunday church with the locals and enjoy another memorable lunch and dancing after dinner.   
Day 11.  Pompei. Drive north and in the afternoon visit Pompei, the city that remained buried under volcanic ashes for about 2000 years.
Day 12.  Amalfi Coast. When people of Amalfi die and go to Heaven, they look around and say: "Nothing new, it looks just like home!" That says it all! Drive north for your "Farewell Party". 
Day 13.  Return flight. 
A South Italy Sentimental Journey Tour Details
Dates of the tour:
May 12-24, 2017 (13 days)
Cost of the tour:
$3900 per person
Tour cost includes:
Tour cost includes: round trip air tickets to and Italy, all ground transportation in Italy by deluxe bus, all first class hotels in double occupancy, all breakfasts and dinners, wine in most hotels, tour escort at all time, local guide in Agrigento and Pompei, taxes and tips
For further information contact:
Remo or Eva 
The Italian Heritage Tours
P.O. Box 174
Reynoldsburg, OH 43068
Phone: 1-800-829-2201  (614) 833-5716
E-mail: italiantours@aol.com