A Fabulous Food and Wine Tour
October 2-17, 2019 (16 days)
Day 1. Oct. 2. Wed. Fly to Italy
Did you ever dream of experiencing an extensive food and fun tour of Italy? Smile, because traveling with Francesca for the next many days you will experience exactly that. You will be immersed in the culture and cuisine of central and south Italy. Let's begin by flying from Cleveland, Oh, to Rome, Italy.
Day 2. Oct. 3. Thu. Land in Rome, visit the City, Hotel in Abruzzo.
Welcome to Bella Italia! First impression: Italian is spoken here! Second impression: a pleasant aroma Espresso Coffee and Cappuccino fills the air in the Airport. You are in the "Eternal City", in the "City of the Caesars", therefore let us begin this fantastic tour with a first hand touch of Rome's grandeur. Yes, you are very tired, therefore no walking, but from the comfort of your deluxe bus you sightsee some of the City's highlights: Coliseum, Circus Maximus, Caesar's Palace, Arch of Constantine, President's Palace, Castle S. Angelo, Tiber River and Piazza Venezia. Next, you go to a rustic Roman restaurant where you have a first taste of a delicious Italian meal. After that you travel through the mountains and picturesque towns of Abruzzo and arrive to your first hotel. Dinner and Buona Notte! (Good night!)
Day 3. Oct. 4. Fri. Street Market, cooking class, winery.
Buon Giorno a tutti! (Good morning everybody!). After that much needed night sleep you are now ready to enjoy your tour. We begin by visiting a medieval town, where you are the only "foreigners". Stroll through its colorful market with stalls selling a large variety of local products: clothes, shoes, fresh produce and fruit, porchetta sandwiches, etc. Do some shop-ping, sit at a coffee shop, practice your Italian and enjoy watching the locals. Next, you go a country restaurant for your first cooking class. Under the Chef's super-vision you prepare the food you eat for lunch. Good local wine will accompany your meal. Next, you visit your first winery. This is the time farmers pick their grapes and make wine.
Day 4. Oct. 5. Sat. Ortona, cooking class, olive oil mill. Dancing?
In the morning you stroll through the panoramic city of Ortona, see its imposing medieval Castle and the Cathedral where you can see the tomb of the Apostle St. Thomas. Next, travel through rolling hills with vineyards, olive groves, walnut and fruit trees and you arrive to another country restaurant where you have your second cooking class. After lunch let's go to the country and learn all about olive oil and "extra virgin olive oil". It is Saturday night, thus could we go to a nice ballroom and have fun? Same hotel.
Day 5. Oct. 6. Sun. Church, Eucharistic Miracle, picnic, trabocchi.
It is Sunday therefore you will have the opportunity of attending a religious service in Lanciano and see the "Eucharistic Miracle". A picnic-lunch in the country sounds great! Then we go to the coastal town of San Vito Chietino to see the famous "trabocchi", quaint fishing pile-dwellings. Same hotel.
Day 6. Oct. 7. Mon. Cooking class,
Enter the Molise region and have your third cooking class in a country restaurant. In the afternoon check into your nice hotel in Campobasso and after dinner feel free to go downtown for a drink.
Day 7. Oct. 8. Tue. Cheese factory, Molisana, Ferrazzano.
Buon Giorno! Valmolise Cheese Factory is waiting for us: let's go! Next, at the famous and humongous Molisana Pasta Factory Signor Fabio is gives us a thorough tour of his plant. It will be a unique experience; you will love it! Have lunch on your own downtown Campobasso and then visit the town of Ferrazzano, a medieval town all made of stones and nestled on a very high hilltop with a fantastic panoramic view: you feel like floating in the sky! Same hotel.
Day 8. Oct. 9. Wed. Cooking class.
Sleep a little longer, enjoy your breakfast, say "Grazie" to your Host and then go Coriolis, just outside the medieval town of Ripalimosani. There you meet Signor Marcello. Recently he built a super-modern, large and beautiful wedding and banquet center. You will have your fourth cooking class in there! After that you enter the Puglia region and drive through endless fields covered with olive trees, vineyards and green vegetables. A nice hotel in the "Trulli" area is waiting for you.
Day 9. Oct. 10. Thu. Alberobello, Valle d'Itria, winery.
Welcome to Valle d'Itria, one of Puglia's most popular tourist areas! It is set in a high fertile area with rolling green valleys crisscrossed by wooded slopes, drystone walls, vineyards, almond and olive groves. The entire area is characterized by charming villages, historic towns, large farms and numberless "trulli", whitewashed cone roofed houses renowned for their charm and beauty. You have the entire morning to stroll through the trulli of Alberobello, get souvenirs and have lunch on your own in some cozy trulli-restaurant. In the afternoon you go a joy ride through that fairy valley and stop at a winery and at a farm with domestic animals. Same hotel.
 Day 10. Oct. 11. Fri. Cooking class, Castellana Caves.
What a fun is to have today the fifth cooking class in a "Trullo-Agroturismo" and enjoy lunch there! Then you descend to the underground Caves of Castellana which began to form about 90 millions years ago. It is an extraordinary compilation of stalactite and stalagmite formations. Those eerie but beautiful caves attract visitors from all over theworld. Same hotel.
Day 11. Oct. 12. Sat. Gravina di Puglia, Winery.
Puglia has so many natural and historic attractions that one could spend months there. This morning we visit the town of Gravina di Puglia, a town built on long and narrow crevices. Many dwellings are carved out of rock and are thousands of years old. The entire area there is known for its fine wheat and wine and, yes, we will go to our third winery and taste it. After dinner would anybody like to go to a ballroom and dance with locals? It could be your Saturday Night Fever!
Day 12. Oct. 13. Sun. Polignano, Padre Pio
Say "Arrivederci" to your hotel, drive through "trulli" strewn fields and stop at Polignano a Mare by the Adriatic Sea. It is a medieval town built on the edge of a craggy ravine with a maze of narrow streets and coastal caves beaten by high waves. The view is just spectacular. Its is Sunday, therefore stop at the town of San Giovanni Rotondo, follow the large crowd of pilgrims and view the body of the well known saint of our times, Padre Pio, who bore the signs of Christ's stigmata. Now drive back to your same hotel in Abruzzo.
Day 13. Oct. 14. Mon. Collepietro and Avezzano
This is your last day of total immersion in the real Italian country life. You are among high mountains and by a wide plain that was once the lake of Fucino. First you visit the remote and ancient village of Collepietro and then have a delicious lunch at Vincenzina's "Il Tratturo" country restaurant. Then you descend to the plain and spend a few hours of free time shopping in the city of Avezzano. The city has a modern aspect, because it has been rebuilt after been completely destroyed by an earthquake in 1915. Hotel by Avezzano.
Day 14. Oct. 15. Tue. Rome: great lunch and city's highlights.
Let's drive to the "Eternal City" of Rome, visit the Basilica and tomb of the Apostle St. Paul, have a super lunch at a rustic Roman restaurant and then see some of the city's highlights. Hotel by Rome.
Day 15. Oct. 16. Wed. Pope's Audience, visit Vatican City.
One cannot be in Rome and not see Vatican City! Every Wednesday morning the Pope gives public Audience in St. Peter's Square. Let's join the huge crowd and go there. Then shop for your last souvenirs and have lunch. Now you have free time to visit the Vatican Museums or places of your choice. A last party dinner at the hotel concludes your memorable tour of Italy! Same hotel.
Day 16. Oct. 17. Thu. Return flight.
An early drive to Rome's Fiumicino Airport reminds you that your fantastic tour is over! Mamma Mia, I don't want to go back! Arrivederci, Abruzzo, Molise and Puglia! I shall return!
The 2017 Cooking Class Group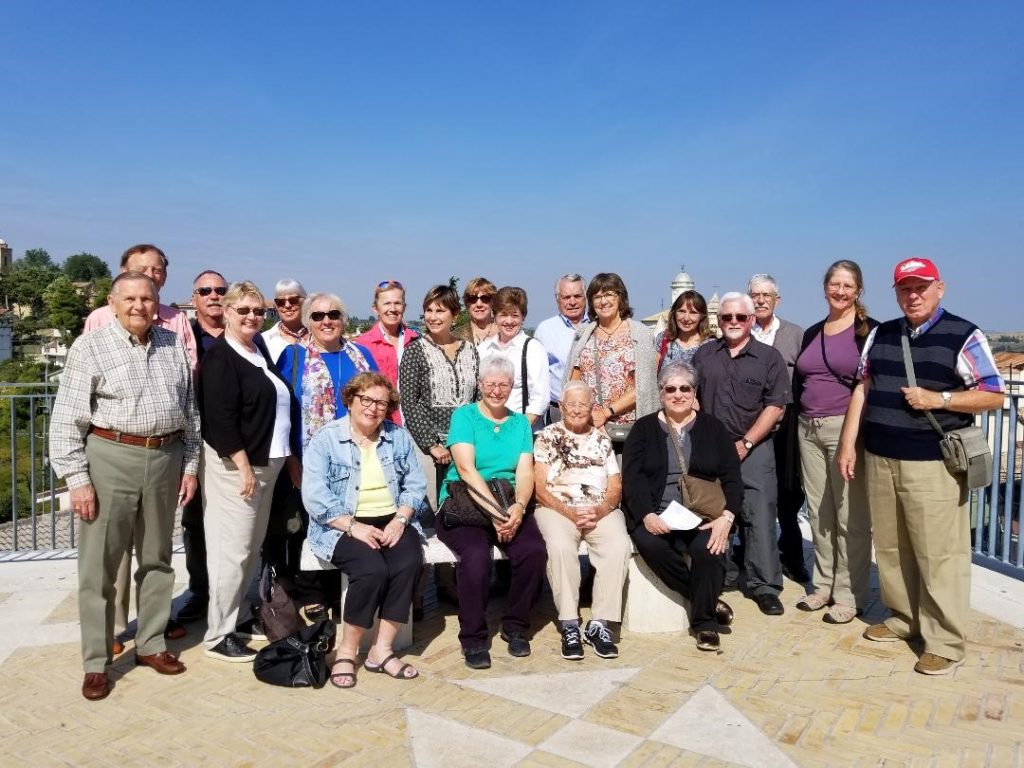 2017 Cooking Tour: picnic on a mountain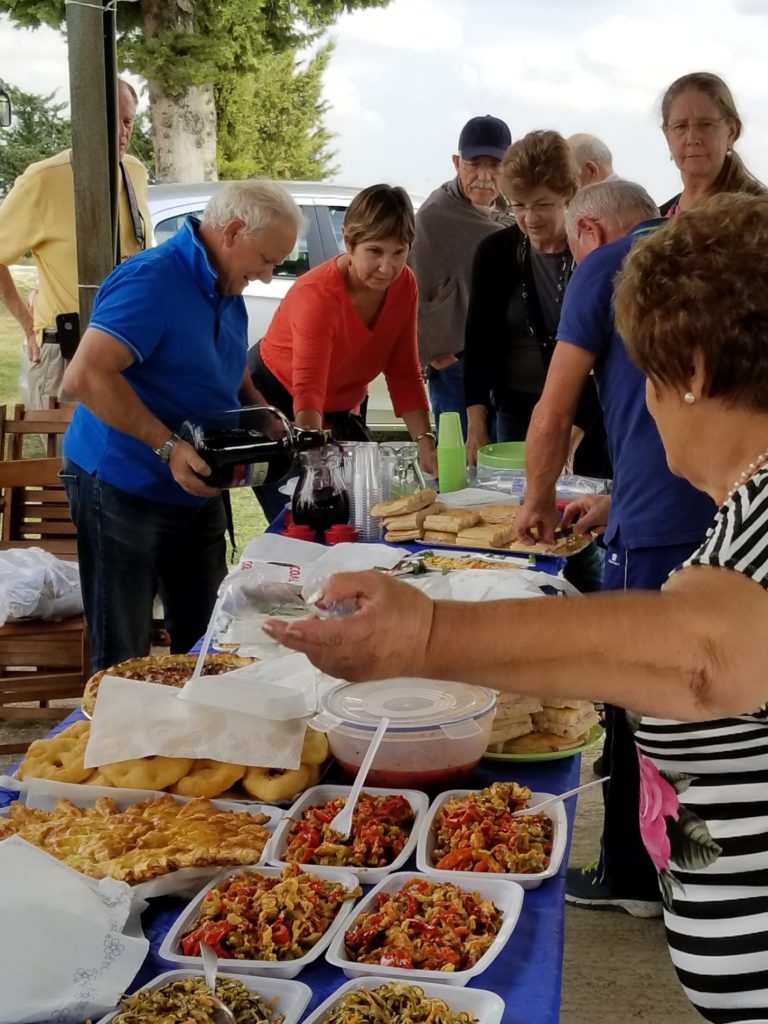 2017 Cooking Tour: visiting a pasta factory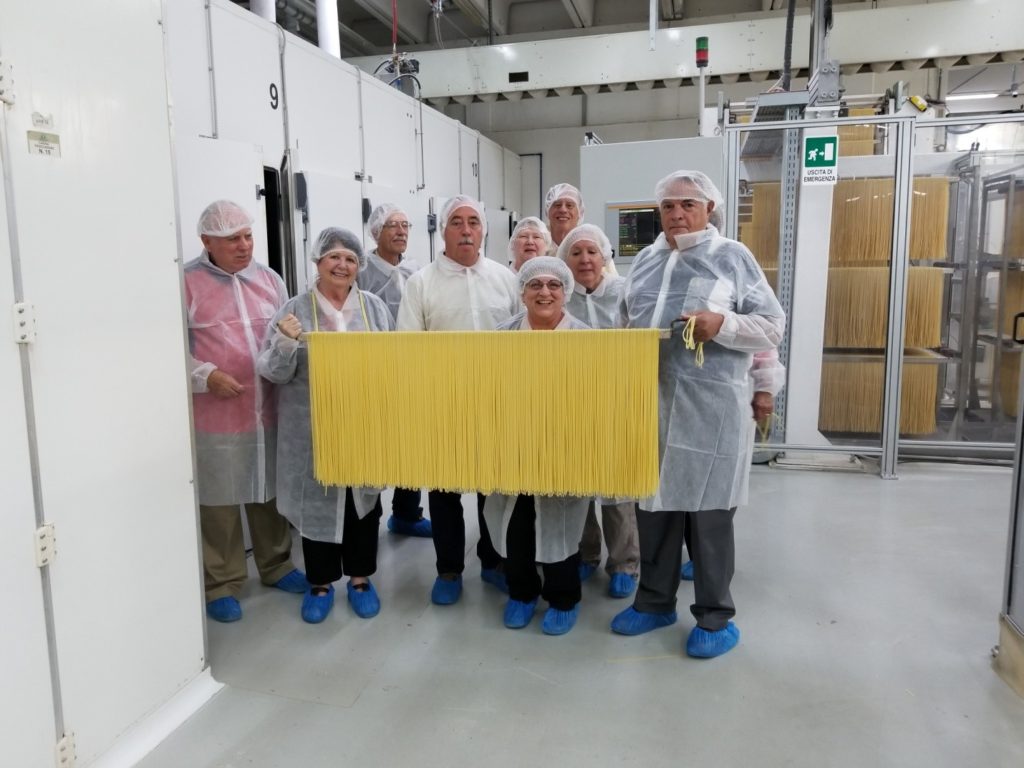 2017 Cooking Tour: lunch in a country restaurant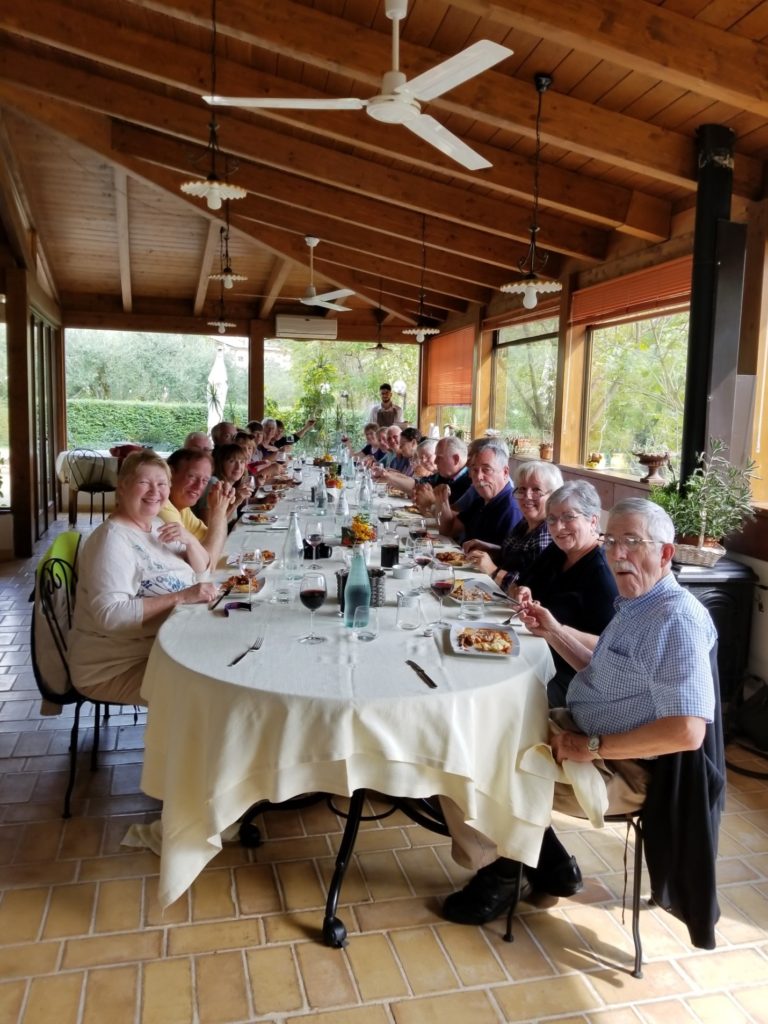 Puglia: Trulli Houses of Alberobello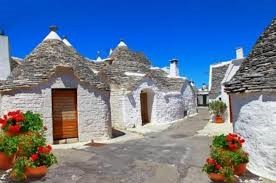 Plenty of wine for everybody…!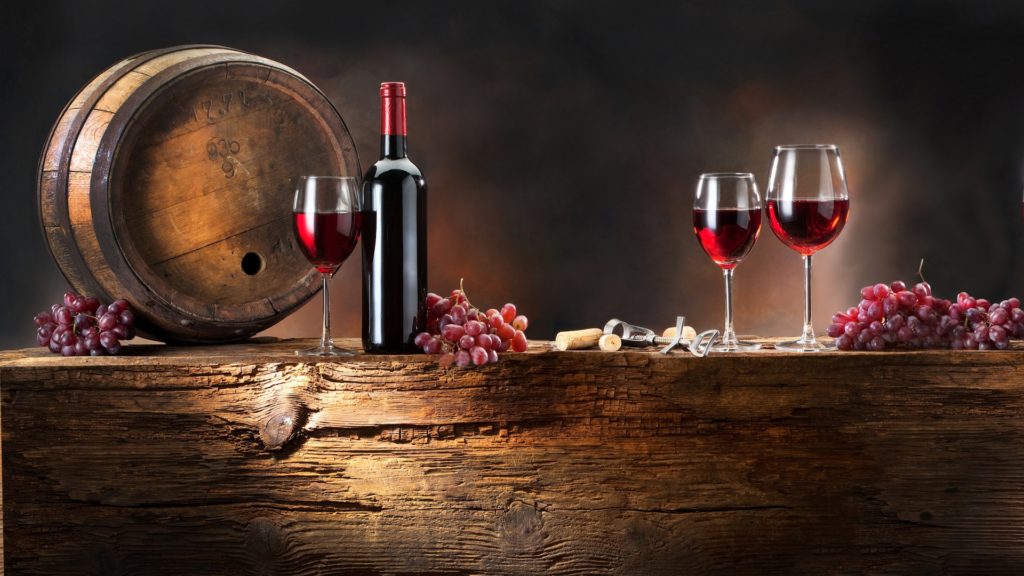 Discover Abruzzo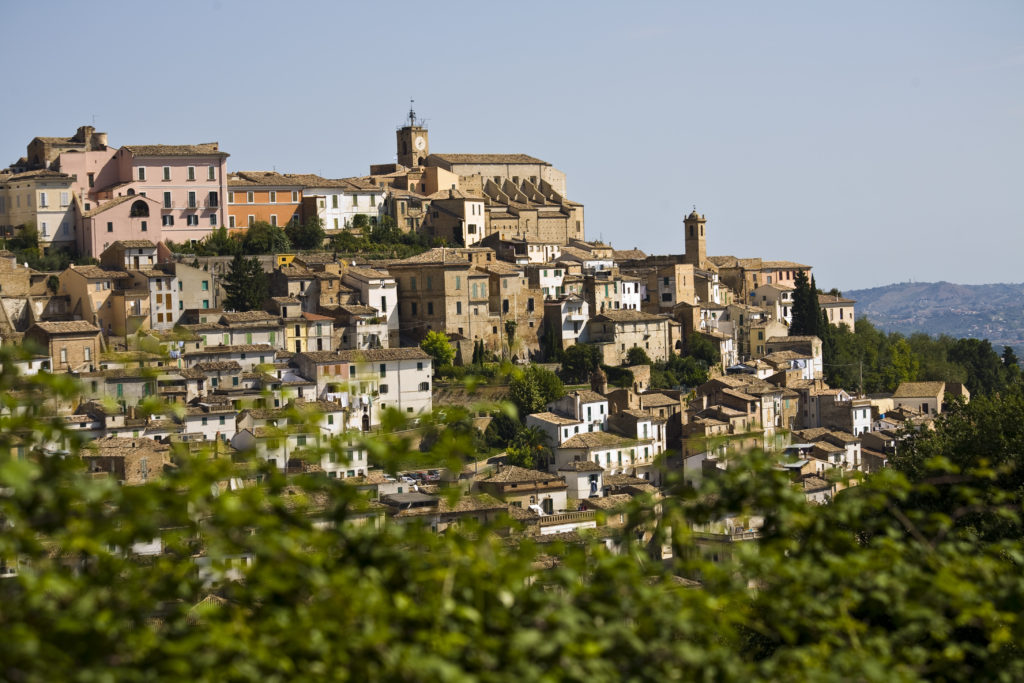 A Fabulous Food and Wine Tour
Dates of the tour: October 2-17, 2019
Cost of the Tour:    $4075 per person
A deposit of $500 per person will reserve your place in the group.
Tour cost includes: round trip air tickets from Cleveland to and from Italy, all land transportation in Italy by private bus, all sleeping rooms in double occupancy in first class hotels, all breakfasts and dinners, drinks in most hotels, tour escort at all time, sight seeing as in this itinerary, taxes and tips.
The tour does not include: lunches, drinks in some hotels, entrance to Castellana Caves, castles and similar (pay only if you go).
Notice:
The cooking classes, as part of lunch, should not involve extra cost. However some places might charge more for lunch because of cooking demonstrations; therefore have some $100 extra available for that eventual extra cost.
For further information contact:
The Italian Heritage Tours
Phone: 614-833-5716 / 1-800-829-2201
Email: Italiantours@aol.com  http://italianheritagetours.com/contact-italian-heritage-tours/