TOUR DATES: SEPTEMBER 26-OCTOBER 11, 2017 (16 DAYS)
The specialty of this tour is that for most of the time you will be completely immersed in the real life of the local people.
You will mingle with them, learn how to cook many delicious Italian dishes, eat the best food you ever had, drink plenty of homemade wine, dance almost every night, and have a barrel of fun!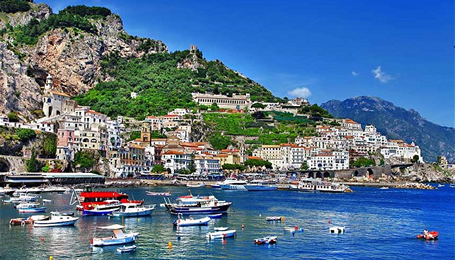 A Cooking & Fun Adventure in Beautiful Italy
Day 1.   Fly to Italy with fabulous food and fun in mind.  
Day 2.   Land in Rome, do some sightseeing, have an exquisite Roman lunch, then drive to your country hotel in Abruzzo.
Day 3.   Abruzzo is the region east of Rome; it is made of mountains, rolling hills and beaches. Today you visit a street market in Loreto, attend a cooking class and have a memorable dinner with local music and dancing. 
Day 4.   Abruzzo. Attend a different street market and another cooking class, visit a local winery. Have another evening of dancing with the local people. 
Day 5.   Abruzzo. Visit the famous De Cecco Pasta Factory, for lunch have a picnic at the foot of the very high Maiella mountain. 
Day 6.   Abruzzo. Optional attendance of Sunday religious service in a country church, visit an olive oil mill, have a fabulous country lunch and dance like crazy in the evening.    
Day 7.   Abruzzo. Some free time downtown the modern city of Pescara, then attend a cooking class and finally move to a hotel by the beach.  
Day 8.   Abruzzo. Today you go to the foot of the mighty Gran Sasso mountain and visit the medieval town of Castelli famous for its ceramic artwork; then at the Shrine of St. Gabriele admire the religious spirit of the local people.  
Day 9.   Abruzzo.  Pescara area: attend a cooking class where you learn to make the delicious Italian pizza, pastries and cakes. In the afternoon see what a visit to a local winery can make you do!         
Day 10.   Abruzzo. A sentimental journey to the mountain town of Collepietro, where you have another cooking lesson and enjoy eating the food you just prepared, plenty of wine. 
Day 11.   Abruzzo. Visit the old but neat mountain town of Sulmona, famous for its "confetti" artworks, then see how the local shepherds make their delicious mozzarella and other kinds of cheese.     
Day 12.   Abruzzo. Spend some time downtown the nice city of Chieti, then in a huge Shopping Mall reward yourself with the best shoes, purse and other things "Made in Italy". Attend just one more cooking class and in the evening have a "farewell party Abruzzo!"       
Day 13.   Rome.  Travel to the "Eternal City", attend the Pope's Audience at noon, and in the afternoon visit St. Peter's Square and Basilica. 
Day 14.   Rome. Discover Rome of the Caesars and of the Renaissance: Colisseum, Forum Romanum, Pantheon, Castle San Angelo, Spanish Steps, Navona Square, Trevi Fountain, etc.                 
Day 15.   Rome. Free day: you may want to go to the Vatican Museums, do more shopping or join those in the group who prefer to sightseeing more of the city's highlights.   
Day 16.   Return flight.
A Cooking & Fun Adventure in Beautiful Italy Tour Details
Dates of the tour:
September 26 - October 11, 2017 (16 days)
Cost of the tour:
$4150 per person
Tour cost includes:
Round trip air tickets from and to Cleveland, Oh, to Italy, all land transportation by private and deluxe bus, all sleeping rooms in double occupancy in first class hotels, all breakfasts and all dinners, drinks and wine in all hotels, tour escort at all time, sightseeing as in this itinerary, taxes, tips. 
Up to $200 per person may be added to cover the cost of  the "cooking classes". 
The cost of lunches is not included.
For further information contact:
Remo or Eva 
The Italian Heritage Tours
P.O. Box 174
Reynoldsburg, OH 43068
Phone: 1-800-829-2201  (614) 833-5716
E-mail: italiantours@aol.com